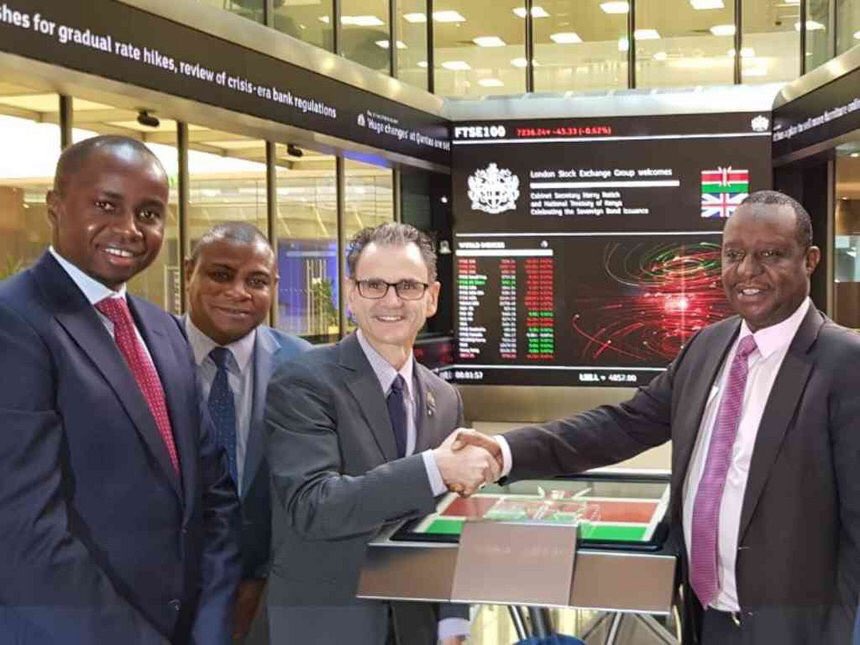 The Kenyan Government has raised KSh 200Bn in a dollar denominated Eurobond sale on Wednesday which will be applied towards the govt's development initiatives and liability management
The maturity of the two Eurobond issues are 10-year and 30-years with an initial pricing guidance is 7.625 per cent and 8.625 per cent, respectively.
Henry Rotich, the National Treasury Cabinet Secretary said "The fact that we got $14 Billion in investor appetite reflected the continued support the country has. We now have a dollar yield stretching out to 30 years."
"Funds from the issue will be applied towards the Government's development initiatives and liability management. We will continue to invest in the infrastructure and capacity to roll out and implement these programmes," Said Rotich through his Twitter feed.
The new bond will be listed on the London Stock Exchange.
"The coupon on the existing 10-year is at 6.875% and as such, the initial pricing on the 10-year has factored a risk premium that has been triggered by recent debt level concerns that led to Moody's downgrade," noted Genghis Capital Analysts.
On
Tuesday, the International Monetary Fund said it had suspended Kenya's access to a Ksh1.5 billion standby facility last June
.
In March 2016, IMF approved the two-year standby loan facilities for Kenya: SDR 709.259 million 24-month Stand-By Arrangement (SBA) and a SDR 354.629 million 24-month Standby Credit Facility (SCF) for a combined SDR 1.06 billion.
However, Kenya had indicated that it will continue to treat both arrangements as precautionary, and do not intend to draw on the new SBA and SCF arrangements unless exogenous shocks lead to an actual balance of payments need.
IMF in November assessed Kenya's compliance with commitments made under the precautionary financing facility.
One of the conditions for the government from the IMF was to narrow its budget deficit to below 6.5 percent of GDP in the current fiscal year and to 5.0 percent in 2017/2018 fiscal year.
However, on Wednesday it clarified that "The second and third reviews of the program, due respectively in June and December 2017, could not be completed on schedule as an agreement could not be reached on stronger fiscal policies, and discussions were postponed due to the prolonged election period. Kenya continues to have access to resources since June subject to policy understandings to complete the outstanding reviews."
Anzetse Were, a Development Economist confirmed the same noting "Discussions postponed due to elections not because of Kenya's fiscal behaviour. Targets weren't hit and fiscal reform didn't occur so the issues are still relevant. Let's see what will come out of the discussions. This seems more about fiscal reform than the facility itself."
In short, IMF position not clear. But what seems to be the case is that the facility is still intact but permission to access funds withdrawn. So funds still earmarked for Kenya but no permission to draw on them. New discussions to chart the way forward.

https://t.co/fANTuPR7fx

— Anzetse Were (@Anzetse) February 21, 2018
Ms. Stephanie Kimani, CBA Group Research Economist, notes that " Meanwhile, the IMF's two-year standby precautionary facility is set to expire in March 2018. Given the expected IMF review before expiry, it could perhaps be worth noting that maintaining the facility could be key to anchoring positive investor sentiments as it signals a level of preparedness in the event of adverse economic shocks."
Faith Atiti, Senior Research Economist, observes that over the last five years, public debt has risen by 153.7% to KES 4.60 Trillion and could increase further driven by the perennially high fiscal deficit.
As a result ratings agency Moody's downgraded Kenya's issuer rating to B2 from B1 but
maintained a stable outlook.
Moody's projects Kenya's debt/GDP ratio at 61.0% this fiscal year as rising spending needs, reduced revenue collection and rising debt service obligations exacerbate the fiscal gap.
"The downgrade could undermine government's ability to raise funds in the external debt market as the sovereign's risk premium increases," Atiti had noted.
However, President Uhuru Kenyatta has affirmed that his "Administration shall ensure the prudent, transparent and efficient utilization and management of these funds for the development and implementation of initiatives that will enhance the social and economic welfare of all Kenyans."
Pleased by the report from CS

@HKRotich

that we have successfully priced a new $2 billion Eurobond issue at the London Stock Exchange - having attracted bids worth $14 billion (KES 1.4 trillion). This reaffirms the confidence investors have in our economy

#EconomyKE

.

pic.twitter.com/wdhMzYAExR

— Uhuru Kenyatta (@UKenyatta) February 22, 2018